Our blog is the place you'll find all things Willsow. You'll find information about sustainability, gardening, the environment and what we've been getting up to. We've got some amazing things coming up in the near future and would love you to be a part of it!
But first… who are we?
An important question to kick things off! We are an award-winning publisher that has created the world's FIRST plantable children's book. Willsow Books are based in Leicester, the heart of England. We currently have five books available, which you can read, cut off the seeded cover and plant to meet the main character. The cool thing about us is everything we use – even down to the stitching – is 100% natural or recycled and biodegradable!
Our Story
It all started when our founder, Tom, discovered you could create business cards out of seed paper. Tom sees potential in all things in life, so he began to think, "What if we could do something more fascinating with this?" As the 4th generation of a 76-year-old family printing company, the lightbulb struck, and Tom got started on making the world's first plantable children's book.
But like Batman without Robin, Tom without Jerry, or Carrots without Peas, Tom needed the help of his best friend James! It only took James to see the first draft of the first story, and he was in. James is from a family of gardeners; his fondest childhood memories are plucking blackberries and picking apples with his grandparents to create the world's most delicious fruit crumble on a Sunday. So together, they were ready to take over the world, one seed at a time!
What makes us different?
Well, good question, lots of things. Not only are we the first plantable children's book, but we are also sustainable throughout our whole production process. We want to educate children and lead by example — encourage them to put their devices down and get back into the garden to be in touch with nature again.
Our books are made from 100% recycled paper, with vegetable and Eco-UV-based, fully biodegradable inks. They're stitched with natural cotton. All of the seeds embedded in our plantable book covers are non-GMO (and are tested and approved as such by an external organisation). We also have a top-secret production process that separates us from the rest! We go the extra mile in everything we do; it's all about building a better future.
You can take a look at how our books are made, below.
What books are currently available?
We have 5 incredible stories available for purchase at this time, with plans to bring you loads more. Meet the characters below: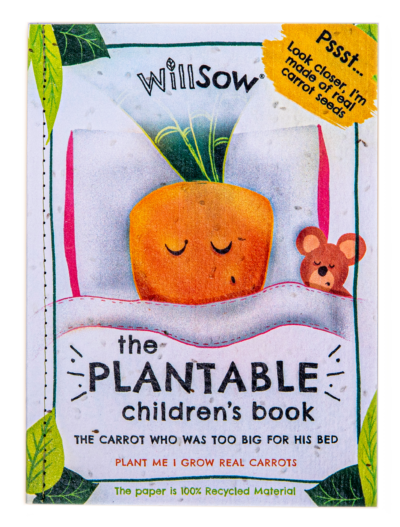 The Carrot Who Was Too Big For His Bed
This delightful story is all about exploring outside your comfort zone. It teaches children the importance of growth.
Carrot loves his warm bed but wants to explore the big wide world. But who will help him pull up his roots and move on?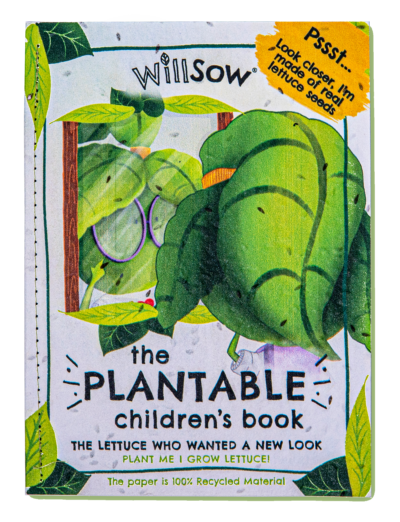 The Lettuce Who Wanted a New Look
A tale of changing appearance, in an ever-worrying world. This powerful story teaches youngsters about being comfortable in their own skin.
Letty isn't happy with her leaves. Can her friends help her change? Or will they convince her she's perfect just the way she is?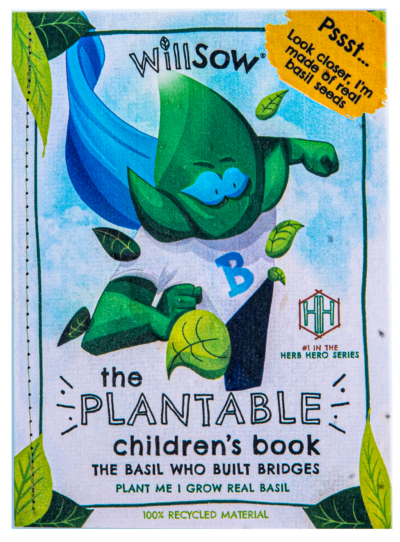 The Basil Who Built Bridges
The first installment in The Herb Heroes Series. This series is all about teaching children what it takes to be a hero and showing they're very much capable of being one.
Basil's part of a crime-fighting trio but when someone needs his help, this heroic herb steps up on his own to save the day.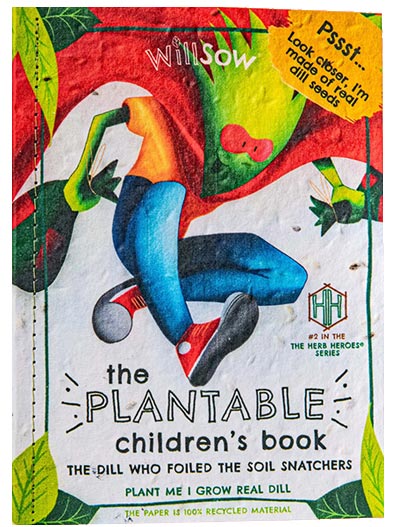 The Dill Who Foiled the Soil Snatchers
The next in the series of Herb Heroes is an intense and thrilling story about Dill.
She's brave and intelligent, so when a pair of dastardly onions try to steal the town's soil, it's up to her to save the day!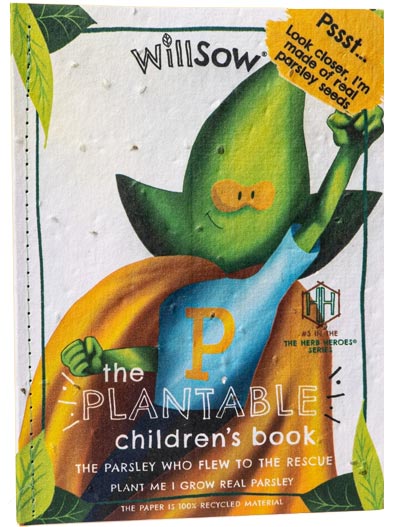 The Parsley who Flew to the Rescue
The third instalment in the Herb Heroes series sees us meeting Parsley.
Parsley's part of an intrepid crime-fighting trio. But when a young fan puts herself in danger, Parsley needs to pull off a daring rescue plan!
How do you plant a Willsow book?
Each book comes with a specific set of instructions on how to plant it, as each vegetable or herb has different requirements. Although, a good rule of thumb on the best time of year to plant is Spring, when it's a bit warmer.
What you'll need:
– A Willsow book
– Planter, trough or raised bed
– Soil and compost
– Water
Simply cut off the back page, place it on slightly compressed soil mixed with compost (not too hard packed). Cover the page with roughly 2cm of soil. Water the planter well and keep moist; once a day should be fine! Keep a look out and after about a week, you'll see the characters beginning to sprout. Some take up to 12 weeks to grow, but some you'll be able to meet sooner – Basil, for example, takes around 3–4 weeks.
Willsow… where the end of the story is just the beginning!
Thank you!
Don't miss us on social media – we'd love you to share with us some photos of your Willsow journey using #ReadMeSeedMe ! We can't wait to hear from you!